2003-06-07
Gobblers Knob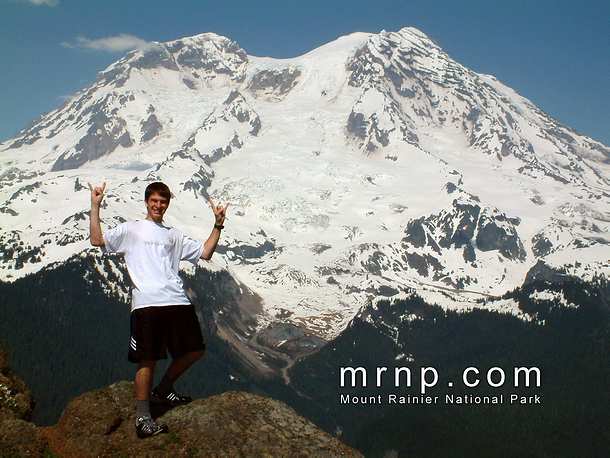 It is 9:30 a.m. on Saturday, June 7, 2003. I left early this morning for a hike to head up to Gobblers Knob, in Mt. Rainier National Park Forest. I woke up about 5:30 a.m. this morning and checked the weather on the internet real quick, jumped in the shower, got ready, ate breakfast, and then made myself two sandwiches; a peanut butter and jelly sandwich along with a roast beef sandwich. I gathered my things I needed, or what I thought I would need, and stuffed it in my car, got my cameras and what not. I left my house at about 7:30 a.m., and went to fill up at the gas station, after I got gas; I obviously drove to the park. I got to the park entrance at about 9:15 a.m., and drove up to the West Side road. The gate was open; it was a beautiful sight I might add. To be able to drive fast up three miles instead of hiking it. It took me about 5 minutes where normally hiking, biking, or scootering on Tysenís scooter, it takes me about an hour or two. Plus, I donít have to hike it on the way back. So, I will save myself a lot of time and energy.

The elevation at the West Side road parking lot, where I parked is about 3,000 feet.

At 9:35 a.m. I started biking up the rest of the West Side road, about 50 minutes of non-stop riding up hill to Round Pass. The elevation at Round Pass is about 4,000 feet. Once I reach Round Pass I drank some water, took a few bites of my sandwich and looked at the Marine Memorial. Then I parked my bike on the bike rack, I brought a lock, hoping no one would steal it and I have now been hiking for about 15 minutes up the Gobblers Knob trail, and it looks like I am getting really close to the point where I turned around last time I was here in February. I was hiking along with another man, by the name of Frank Black who also turned around at this point. I turned around because it was too late in the day the sky was cloudy covering the mountain and I was tired. I had hiked too many miles in the snow with snowshoes, and I had biked about a mile or two in the snow and I was tired. And that is not fun, not when youíre not in shape. I think when I get to Lake George I will put my swimming shorts on and jump in and start swimming, because I have been dying to do that for a long time. I am currently at 4,220 feet and obviously gaining

It is 11:35 a.m. I reached Lake George about a half an hour ago; unfortunately there will not be any swimming today because the lake was mostly covered in snow. I think I will try to keep from getting hypothermia, and skip the swimming. I have been hiking now for about 5 minutes. I just left Lake George. I sat at the lake, and filled up with some water. I took some pictures and a panoramic. I left my swim shorts and my breathing pipe. There is already snow just past the lake; that Iím hiking on. Right now Iím not since I am on the hill where the sun hits it all the time. I am sure there will be more when I get to the top. The elevation at the lake was about 4,400 feet. The temperature right now, according to my watch, is about 61 degrees. I donít think itís very correct though. I have about a mile and half, I believe, to hike to the top. If it is like it is right now, without snow, it will be a nice easy hike, without so much snow. I will probably get there in about 45 minutes to an hour. It is pretty steep so it depends on how much snow there is.

I reached Gobblers Knob at about 12:45 p.m. I was hoping for 12 or 12:30. It was snowy towards the top, so it took a little bit longer to hike through. Before I reached the top I was hiking on the trail, and right where it splits to go up to Gobblers Knob or to the Gifford National Park, I totally missed the sign, because not only was it surrounded by snow, but it was covered in branches and moss so it was almost impossible to see. So I walked right by it. I probably went about 40 or 50 feet. And I looked up and kept saying to myself...ĒI have never seen that rock before.Ē I couldn't figure out what was wrong, so I looked around some more, and I realized I must have passed the sign because everything was so unfamiliar. So I decided to keep going just a little bit further. I wanted to see if there were any good views from there. So I just kept hiking . I was listening to music, and then I heard something. So I took off my earphones, and it was just some guy, probably about 23 years old, hiking. He was coming around from the other side. He was about 20 feet from me. It scared me at first. He and two guys were together and they were headed up to gobblers Knob, and I asked them if there was a view from where they came from, and they said there was, but it was the same as from Gobblers Knob, so I decided to just turn back around and to head straight up to Gobblers Knob. The trail was not easy to find at first, but it wasnít too bad. I found it and continued hiked up to the top. There were a few small clouds. Nothing low enough to obstruct the view of Mount Rainier. There were a few large clouds casting shadows on the mountain. There was another guy up there and his name was Keith and he was 32 years old and he is working on his Graduate or something like that. He seemed like a nice guy. We talked for a little bit. The other guys made it up, and the 3 of us talked. There were 3 in the other group, but only one came up. I donít know if the other ones were shy or what. They werenít too set on coming up. Maybe they thought that the fire lookout was not stable enough, and I thought that was kind of funky. I am pretty sure it is stable. And then I ate, and took some self-portraits of my self, like I did while hiking the Wonderland Trail. And then I also took several panoramas. Later on it cleared up and there werenít very many clouds in the sky at all. I just stayed for sunset, of course. Iím not going to say it wasnít as good, but it wasnít as neat as last time I was there. I am glad I stayed. The sunset was at 8:58 pm. After the sunset, I started gathering my things, pumped some water for the way down, and ate the rest of my sandwiches. I started hiking down at 10:00 p.m. It was getting dark, but I decided to try hiking it again without a flashlight. I went about 30 minutes down the trail, and the moon was about half lit so it was slightly moonlit. Just before Lake George I put on my headlamp to allow me to see and hike a lot faster. I reached Lake George a few minutes later. I picked up my swimming shorts, goggles, and breathing device and strapped them onto my pack and continued down to the trail. I reached Lake George at 11:00 pm, which was 1 hour from Gobblers Knob. And from Lake George down to Round Pass it took me a half hour, so that was 11:30 p.m. and then from Round Pass I got on my bike and I was able to ride down to my car, and that went really quick. It took 15 minutes to bike down. Keith said it took him 2 hours to hike up that trail to Round Pass. I did it in 50 minutes on my bike. I think the pay off is well worth it. The ride up is harder, but on the ride down you don't have to pedal; you just let go and fly down. Even in the dark it was fun. I got to my car at 11:45 p.m. and packed up all my stuff up and drove down from there. I exited the Nisqually entrance at midnight. And then it was 30 minutes from there to Eatonville. I got home at 1:30 a.m.

Special thanks to Angela Cranney for her time in converting all of the audio to the text above.