2003-07-19
Derek Rowley & Angela Cranney Hike
Emerald Ridge & Gobblers Knob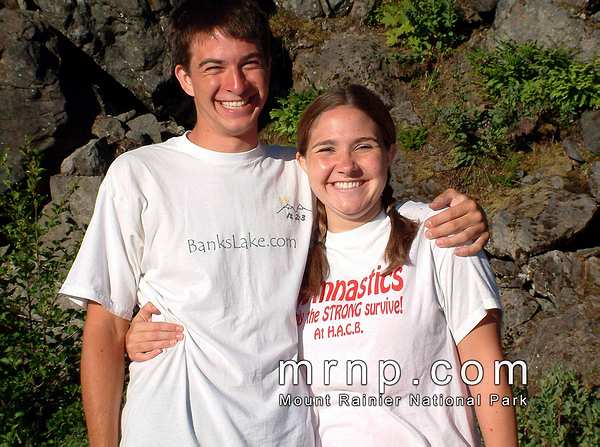 It is Saturday July 19, Angela Cranney, and I, Derek Rowley are hiking down from Emerald Ridge at this very moment, behind us is probably one of the most beautiful sights in the whole park, and I've got pictures to prove it.

This morning I picked up Angela at 5:30 a.m., we left University Place at 6:00 am after filling up at the gas station. We drove to the Nisqually entrance of Mount Rainier National Park. I made it in record time, an hour and 15 minutes, compared to my normal time at 1 hour and 45 minutes. When we reached the park, we drove up the west side road where the gate is at. We pulled the bikes out of the back of my car, and started riding up the West Side Road at 8:00 a.m. We rode about 2 minutes up hill then Angela decided to tell me that she didn't have some of her food, so I rode back down to the car and got it. Then I found out that my bike was broken from the bum who had stolen it, so I had to rip off the fender that he stole for my bike and fix my breaks that were out of alignment. We then kept riding our bikes up the West Side Road and made it to Round Pass at 9:10 am, which is pretty good time. I was carrying a whole pack and Angela was carrying NOTHING. After we got to Round Pass we went over by the Gobblers Knob trail head and pulled out our sweaters, fleeces, and frozen water bottles and some batteries and ditched those in the woods so we could get them on our way to Gobblers Knob since we wouldn't need them in this nice hot weather. After Angela took care of herself, we left Round Pass and biked down the West Side Road for about 5 minutes past the Marine Memorial towards Klapatche Park. We got to where the west side road junctions with the trail that runs over to the South Puyallup River Camp. We ditched our bikes in the woods near the trail head after drooling at the nice Durango sitting there, past the gated area, owned by the stinkin' rangers. By the time we were done getting ready at Round Pass and biking down to the trailhead and ditching our bikes we started hiking at about 9:45 a.m. After hiking for a little while we reached South Puyallup River camp at approximately 10:20 a.m. We stopped at the South Puyallup River Bridge and sat there for a few minutes. Derek took a few pictures of Angela and Gobblers Knob from the river. We saw 4 hikers there. There were 2 rangers and 2 volunteers. I asked them if the vehicle was theirs. They took 2 vehicles up, one for the Klapatche area and one for close to Round Pass. They were doing a day hike. It was really unfair, I was very jealous. I wanted to be the volunteer ranger! We left the South Puyallup River Camp and started hiking again toward Emerald Ridge. The book claimed that Emerald Ridge was 2 miles farther but the sign said 1.7. After a few minutes we stopped at a small stream to filter water which took a little while. From there it is pretty much all up hill to Emerald Ridge, and probably half way up, about 25 minutes from Emerald Ridge, we started seeing the Tahoma Glacier that was coming down. We passed about fifteen people hiking the Wonderland Trail, in a several small groups. Then we continued hiking and reached Emerald Ridge at approximately 11:45 a.m.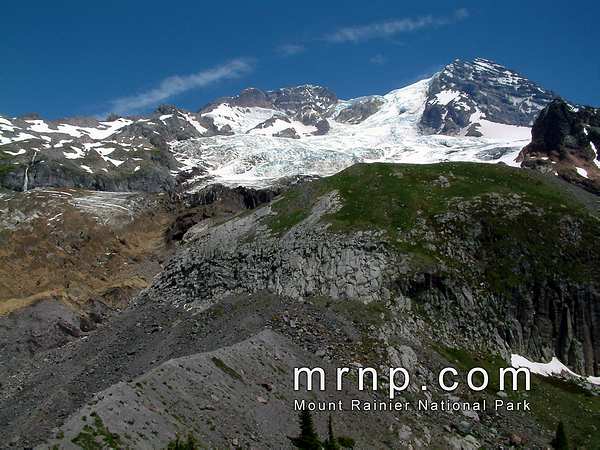 At 11:45 a.m. we made it to Emerald Ridge, took pictures, got a little to eat and drink and then after we got panoramas, we hiked back down and reached South Puyallup River Camp at 2:00 p.m. At 2:50 we reached the West Side Road and biked uphill toward Round Pass. Angela made it all the way except for the last 300 feet or so. Biking that short distance was probably better than hiking. We got to Round Pass at about 3:00 p.m., although we did stop in the middle and got something to eat. We looked at the Marine Memorial for a few minutes and the mountain looked good, except for a few trees blocking it, actually a lot of trees blocking it. At 3:30 p.m. we rode over to the trail for Gobblers Knob, and picked up our bikes, our sweaters, drinks, and other stuff, and we are now hiking up the trail to Lake George and Gobblers Knob. Angela is just pumped for the next section. She is trying to run ahead of me and I am holding onto her as she pulls me up the trail. She doesn't even have a pack, but that doesn't mean she's lazy! We will hopefully reach Lake George at about 4:15 or 4:30 p.m. and reach Gobblers Knob lookout at no later than 6:00 p.m., and Derek knows Angela can make it all the way. And if we do, make it by those times, we will have made it in less than 3 hours. Then we will watch the sunset, pack up, and hike down. After all that hiking we will get to bike down the road for 3 miles which will be a lot of fun.

We made it to Lake George at approximately 4:00 p.m. and there were swimmers and we debated whether to swim or not, but neither of us had our swimming suits so we decided not to. We stopped at a small lake part way up the trail and filtered water because Angela was dying, and Derek claimed he was dying. We were expecting to get to the top at 6:00 p.m., but we got there at 5:15 p.m., which was excellent timing, especially because Angela and Derek were dying and ready to stop hiking Derek is now taking pictures and we are just waiting for the sun to set. It is so very beautiful and there are no words I can use to describe it. We can look over toward Mt. Rainier, at where we were at earlier, Emerald Ridge, and the trail we hiked on, and the beautiful mountain.

Well, we saw the sunset and Derek took a lot of pictures and hopefully there will be some good ones. As the sun was setting, it was beautiful and marvelous, and became chilly and cold. After the sun set we packed up our belongings and started hiking down. We left Gobblers Knob at approximately 10:00 p.m. and reached Lake George at 10:35 p.m. and made it to Round Pass at 11:05 p.m. and made it down to the car, on our bikes (going crazy, and it was scary) at 11:25 p.m. We got to the car and packed our bikes in and are now on our way home, it is approximately 11:55 p.m.