2003-07-24 Ė 26 Rainier Summit Hike #2
Today is Thursday July 24th 2003. Our planned departure time was from the White residence, but as usual we were late. By the time John Duby and his brother-in-law, Kenny, came along and after all the packing was done, we didnít leave until about † We ended up driving two vehicles; the Whitesí Ford Taurus and Johnís Toyota truck. We reached the Paradise parking lot at about Unfortunately, we were a little bit too late for checking in with the rangers which we really needed to do. We talked to Becky who wouldnít even open the door, through the glass door at the Henry M. Jackson Memorial Visitors Center. We needed some papers signed but she acted like we didnít need to have it signed and didnít care enough. So we started hiking at from the Paradise parking lot, elevation 5540 feet or so. We are hiking up the Skyline Trail and we just passed the turnoff to Panorama Point. We are now on our way to Pebble Creek and Camp Muir. Although tonight we will not be sleeping at Camp Muir, we will be camping about an hour below. The hike so far has been great. Weíve taken a few small breaks. The sunset was beautiful and there are still some colors left over. We can see Mt. Adams very clearly and Mt. St. Helens is a little hazy. Iím hiking in shorts and a t-shirt and my pack weighs about 60 pounds with the rope.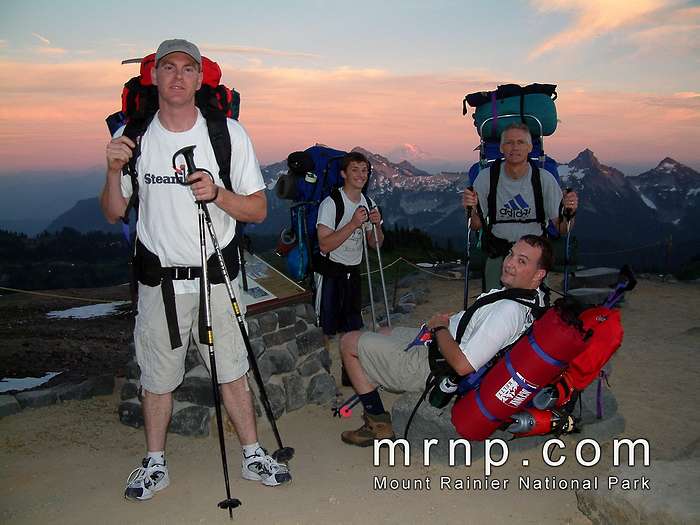 The current time is It is early morning on July 25th 2003. We are at elevation 8450 feet. We are camping below Camp Muir on Mt. Rainier. We continued hiking from Pebble Creek on toward Anvil Rock. Once we got to Pebble Creek the trail turned mostly to snow. Some sections being steep but not too hard. After sunset we lost a lot of light. At it got much darker and harder to see. John and Kenny both pulled their lights out at Pebble Creek. The hike was not difficult but was tiring. My shoulders were a little sore since I havenít been hiking with a heavy pack recently. I was thinking earlier that my pack was 50 pounds but now Iím thinking more like 60 pounds since Iím caring the rope which weighs at least 7 lbs.
We reached our camping spot located below Camp Muir at This camp site is really close to the place I camped at in 2001 when making my first summit attempt. Kirk White decided to dig out a small section of snow for his tent. John and his brother-in-law, Kenny, decided to tent in the rocks. I decided to camp in the snow so I started digging to flatten out some snow for my tent. I got about half way done digging when Trent told me he saw a small section in the rocks that was flat. So I went and looked at it and I decided I would rather set up a tent there, which was much easier than digging and sleeping on the cold snow. So Iím now tenting on the gravel and it isnít too bad. For food tonight I had two nutri-grain bars, excellent beef jerky from John made by his wife Gina and some water. We will awake about tomorrow and go from there. Iím wearing my thermals, beanie and socks to bed. I was going to fall asleep in my shorts and t-shirt but I figured it would be well worth it to sit up for a few minutes and change because I know I would freeze to death if I didnít and Iíd be kept up all night long. Iím sleeping on two pads tonight, one foam and one air pad. Iím using my coat under my feet and Iím using my fleece jacket as a pillow in my sleeping bag stuff sac under my head. The weather is very nice, very clear and warm, some warm breezes and some cool breezes, so hiking up to this point was very nice.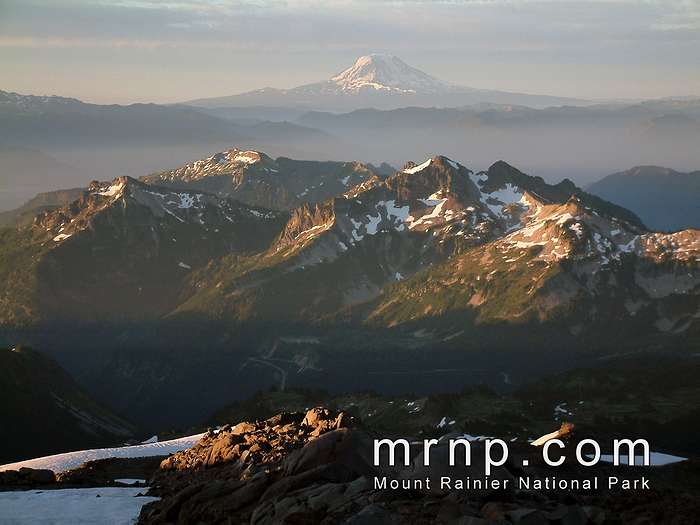 On Friday morning July 25th 2003, we woke up around I personally woke at about and took pictures of the sunrise. The sun actually rose around but I was a little slow waking up. I got some ok pictures, but nothing special. After taking the pictures of the sunrise I went back to bed and woke up at I had a little to eat for breakfast. I didnít cook but I did boil some water to drink for the hike. After packing up all of our stuff and taking down our tents we were ready to start hiking at about We hiked along with a few people and saw quite a few people behind us. There were probably about 30 to 40 other hikers. We reached Camp Muir at about There we sat for about 90 minutes. We relaxed and had a little to eat, went to the bathroom in the ďSolar ToiletsĒ. My trip to the solar toilet was for the most part unsuccessful. We met a lady who we saw hiking up the trail to Muir. The others were commenting about her since she was older.† As she got closer and asking a few questions, Kirk and John realized she was the one who had climbed to Camp Muir 40 some times and this was her 19th climb this year to camp Muir. Last year she climbed Mt. Rainier for the first time. She said she keeps climbing to Muir until she feels in good enough shape to attempt the summit.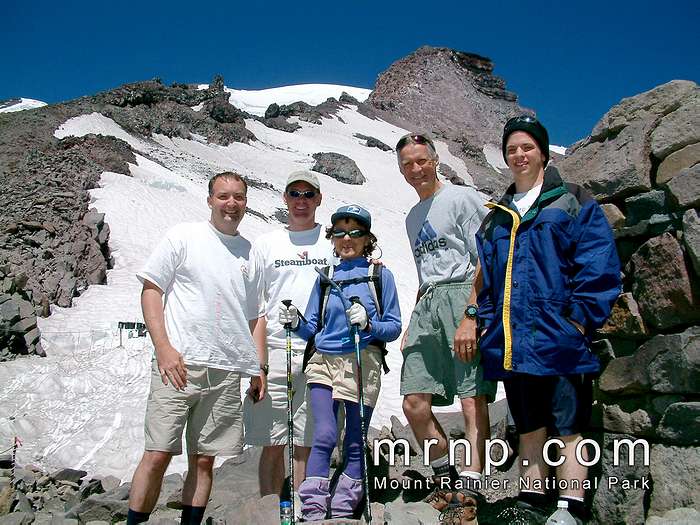 Kirk talked to the ranger at Camp Muir to try to get our permits changed. Our permits were for Camp Muir for tonight but we were hoping to get them changed to Ingraham Flats. Becky from the Jackson Center told us to call the rangers in the morning. We did call but no one would answer. When Kirk talked to the ranger at Muir he was able to change our permits and allowed us to continue on to Ingraham Flats. We put on our ice boots and crampons and I continued wearing shorts and a t-shirt. We roped up shortly after camp Muir. We stayed about 20 ft. away from each other. We left Camp Muir at about We hiked across the Cowlitz Glacier and over Cathedral Rocks which took about 45 minutes. At the top of the pass I took two panoramas. Little Tahoma was directly in front of us. The rocks of Little Tahoma were very colorful. We could see Sunrise and all the surrounding peaks. It was very clear. There wasnít much wind so it was a little hot, but still bearable. We continued on and reached Ingraham Flats at about As the others set up camp, I took a several pictures. It is now about We are going to eat and go to bed. We should wake around and start our summit attempt. Hopefully, the weather will be nice and not stormy or too cold.
Iím tired. Todayís hike was tough but I think Iím in better shape than two years ago. But maybe itís just that I know that today was the easy section. I know the tough part is coming up, even without our heavy 65 pound packs. We will see what that is like tomorrow morning. Elevation here at Ingraham Flats according to my watch is 10,980 ft.
It is Friday evening and we are still at Ingraham Flats. Iím going to bed now; hopefully I will be waking in about 6 hours at to make the summit ascent. I had macaroni and cheese for dinner after melting a whole bunch of water and using almost all of my fuel. The others all seemed to have macaroni and cheese for diner also. Hopefully, we will leave about tomorrow morning.
It is now Saturday July 26th 2003. I woke this morning at after an ďokĒ nights sleep. I woke up several times because of the rock fall at Ingraham Flats. I was also slightly uncomfortable sleeping in the cold snow. I woke at and waited about 45 minutes for the others to wake up. I assumed we were all waking at but I didnít really talk to Kirk to find out exactly what time he was planning on waking. We put on our clothes, boots, crampons and started hiking at We were probably the fifth party to start hiking and I believe the last to leave Ingraham Flats. We started up the cleaver and kept having to stop because of the people in front of us who were dropping boulders down toward us. So we stopped and waited for them to get ahead and out of the area where they were kicking down so many rocks. Then we waited some more. In one area we waited for about a thirty minutes. On the way up I was wearing my crampons, boots, wool socks, thermal underwear, a T-shirt, waterproof ski pants, a ski jacket and a beanie. I stayed quite warm except for when we stopped. I actually wore some of those thin cottons gloves you get for $1 or so at Fred Meyers. But I also took my nicer waterproof gloves just in case. We finished the cleaver at about After passing the cleaver we passed a few people then they passed us again. At about the batteries to my headlamp died and I was too lazy to get the other set of batteries out of my pack. Since we were on the snow it really didnít matter too much and the hiker behind me was unknowingly casting enough light for me to see. At about we watched the sun rise. We stopped to take pictures as the sun cast a beautiful pink tint on the snow around us.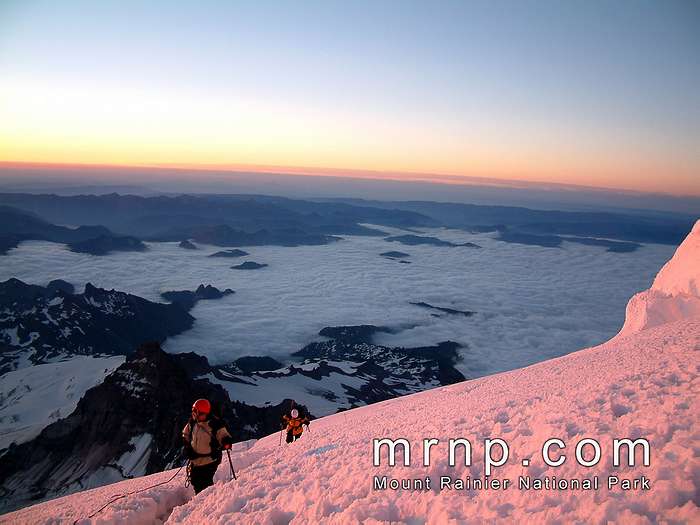 At about we reached the crater rim. We un-roped and I put on my fleece jacket and left my backpack at the crater rim. I am now walking across the crater rim and I am almost to the dirt where we will sign the guest book. Then we will finish the last few hundred feet to the summit.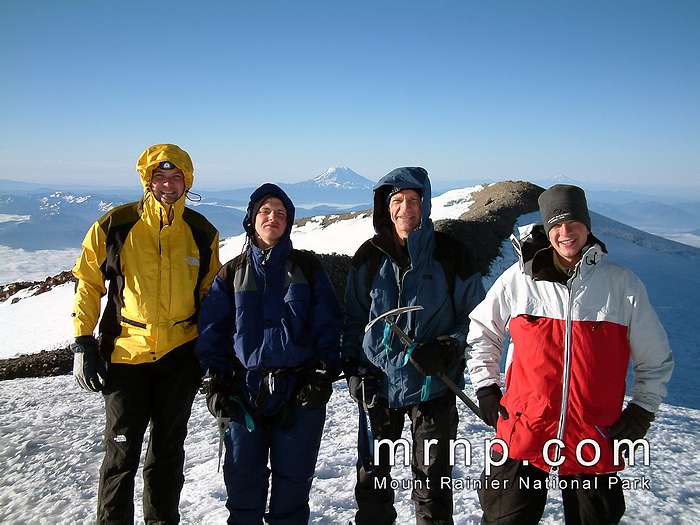 We reached the summit at on Saturday morning July 26th 2003. We stayed at the summit for only a few minutes. We took some pictures and headed back down. I stayed a few more minutes and took two panoramas from the summit, one 360 and one panorama of the crater from the summit. We didnít go very far down not even to the guest book to attempt to call home but it was very hard to get through. We all managed to get through but we had to just keep redialing over and over again. There was service but not many lines for the area. We left the rim of the crater at about We hiked down the hottest and most tiring part of the hike. We tried to pass people and we did but there was one group that wouldnít allow us, but then a few minutes later the group finally got off the trail and let us pass. Their leader commented and said that we could pass them but we wouldnít be able to pass the group in front of them. Kirk replied asking him why so? Their leader said because we wouldnít be able to catch up with them. We continued down and soon enough the other group stopped for a break and we passed them.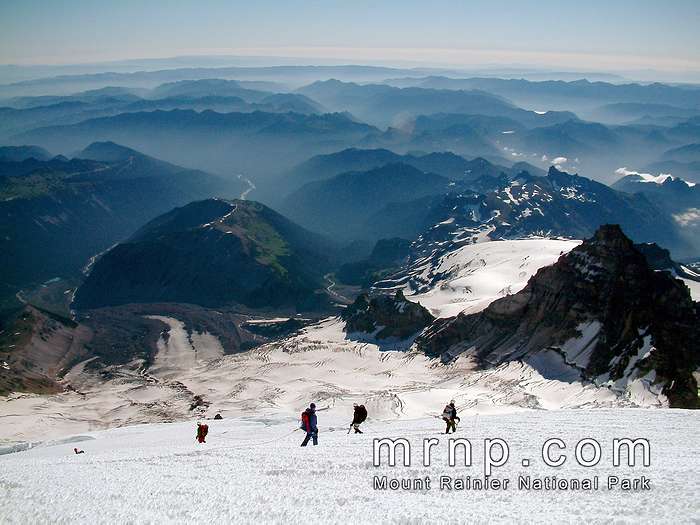 The hike down was very hot and the other guys were taking very long steps which made it hard for me since I was practically jogging down the slushy snow with no energy. I was wearing my thermal pants ski pants, a t-shirt and my jacket. I took of my hat and I was still very hot. My goggles were on to protect my eyes from the sun. I was wishing it was cloudy coming down in stead of hot and sunny. We continued down the mountain hiking down the cleaver. No one fell or got hurt but Kirk slipped a little and I tried to grab the rope but lost my balance and ended up jumping off a small 3 foot drop off, luckily onto the only patch of snow around. We continued down across the Cowlitz Glacier and reached camp at about Iím in bed now lying down relaxing after the last little bit of hiking.
This time I took off my boots. Last time I left them on and laid in my tent with my feet sticking out. After 20 minutes of the sun beating down on the black plastic of my boots I suddenly awoke to a burning foot. I quickly took of my boots.
We are now relaxing for a few hours until we have to start hiking down the last few hours to Paradise. After we get to the parking lot it will take another 2 Ė2 Ĺ hour until we get home. Then Iím going to go hot tubing.
Going up this morning was definitely difficult but I think coming down is a lot harder physically especially because of the heat of the day. Going up is much harder mentally. We will probably start cleaning up our stuff in about 2 hours and probably leave at
At we left Ingraham Flats to start hiking down to Camp Muir. After about 10 minutes we reached Cathedral Rocks. We hiked down and reached the bottom after about 10 Ė 15 minutes, then we reached Camp Muir at about We stayed at Camp Muir for about 20 minutes. I changed out of my boots and crampons and took of my harness. We then continued down, I was still wearing shorts and a t shirt. We hiked and slid down the long Muir Snowfield. I decided to try to slide down some of the snowfield with the snow shovel. It worked but it wasnít as fast as it wouldíve been without my heavy pack.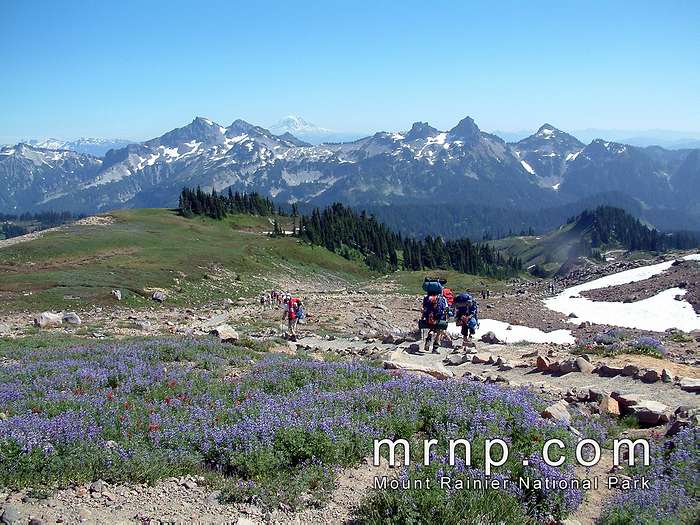 We reached Paradise at and packed our stuff away. Johnís truck had a flat tire that he and Kenney changed. Kirk and I waited for Trent to get a shower at the Jackson Visitors. After his shower we drove him to meet some friends waiting to take him to a Kenny Chesney County Music Concert. We reached Tacoma at and Iím now home, Iím going to take a shower and go hot tubing. I donít have any major body pains except for my right shoulder.
After waking up on Sunday morning I was surprised to find that although I was a little tired, my body didnít feel like it did the last time I climbed Rainier. I was very surprised to be feeling so good. Climbing Rainier for the second time was still a challenge and a tough hike but I canít say it brings the same amount of accomplishment as it did the first time. But it was still well worth it.
Thank you, Kirk, for inviting me along and guiding us on another unforgettable hike.
Donít forget to check out the panoramas page with thirteen panoramas and two 360įís!